Special Offers
For The Holidays!
Merry Christmas and a happy New Year!
Below you can find some special discounts during this period from December 25 until 31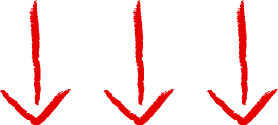 I wish you and your loved ones the best for these holidays!

May next year give you  the  joy and fulfillment you so much earned.

- Conrad Raw, Greater Human Potential
Below you find a selection from the Greater Human Potentials catalog with special discounts...
These special offers are only valid for orders placed through the special links on this page and are valid until December 31, 2014.
The Zensation Manual provides you with the basic skills and a rational frame. Learn how to feel and see energy and auras. Increase your psychic energy and become a master of your emotions. And much more...
During this promotion just  $67  instead of  $97.
Click here to read the full content and to order at a discount
Ultra Dynamic Mind teaches you how to function with conscious attention in the subconscious levels of your mind.  And gives you access to healing, manifesting, reaching goals, changing habits, telepathy and clairvoyance. And much more...
During this holiday promotion just  $249 instead of $297.
Click here to read the full content and to place your order
These mp3s contain the most advanced audio technology  to alter your state of consciousness. Meditation and reaching a meditative state becomes very easy this way.
There are 2 mp3s:
Alpha Breath gives you an easy meditation technique by following the sound of a bell with your breath. In the meantime the specially coded frequencies bring your brain into a relaxed meditative state.
Alpha Theta is a little bit more advanced and can be used when you already know a meditation technique but would like to be able to stay in that state of consciousness a bit longer. The specially coded audio frequencies help you to stay in that meditative state for a longer amount of time.
During this holiday promotion just $ 24.95 instead of  $39.95.
Click here to discover all the benefits and to order